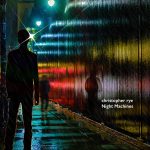 "Music for outsiders set in the night streets of New York. Debut album from the BBC Introducing and BBC6music featured singer, songwriter, and producer, blending Roxy and Japan-style electronics with dance beats and Floydian guitars." (CDBaby)
christopher rye's new album, 'Night Machines' – written, performed, and produced by christopher at his Disreputable Gentleman's Club studio in Brighton, UK, and mastered at The Sound Lab, NJ, US – is now available as a download or stream from all major digital outlets, including (click button).
See album artwork and listen to a free playlist at the foot of this page.
---
Formats
• Limited-edition purple mini-vinyl CD (UK only, date tbc)
• Limited-edition USB Cassette (UK only, date tbc)
• Limited-edition vinyl (date tbc).
• Digital download/stream (available now)
---
Bonus material
Archive Edition (USB cassette)
This new format contains a flip-out USB stick in a cassette-tape shell, and features all 12 album tracks, plus:
Outtakes: 'Big Coat, Big City' / 'Moving On' / 'GhostWriter' / 'Countdown to Zero' / 'My Night Machine'.
HD Videos: 'Alive! He Cried (remaster)' / 'Splinter Cell (remaster)' / 'I Tell the Moon' (exclusive) / 'I Am the Voices (edit/remaster)' (exclusive) / Jam session footage (Brighton Electric Studios).
---
Artwork