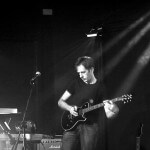 christopher is a highly accomplished rock guitarist, specialising in ambient, spacey sounds, atmospheric textures, and fluid rock solos – in the tradition of players such as David Gilmour, Nick McCabe, Phil Manzanera, Robin Guthrie, and Robert Fripp.
He can also create an intricate, nylon-strung sound that recalls Nick Drake and John Martyn. He worked in London as a session player for several years and is very experienced both live and in the studio.
Hear for yourself. Here are three minutes' of some recent guitar work (2016):-
Guitar demo reel
christopher is available for both studio and live work with solo artists and bands. (He's also an experienced keyboard player: most of the instruments on his own solo tracks are played or programmed by christopher.)
For live and session work, his main guitars are a Dean Deceiver, a Fender Aerodyne Strat, a Vox Teardrop, a Gretsch lap steel, and a Yamaha Silent Guitar. He uses Hiwatt, Roland, Schertler, and Vox Ac30 amps, and has a range of custom pedal boards.
Whatever you want to sound like, christopher can make it happen.